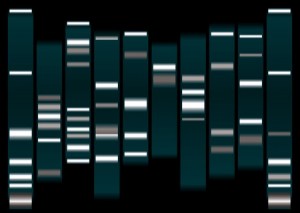 Expert forensic analysts closely examine individual characteristics on a microscopic level to identify criminals and verify document authenticity. The numerous criminals suspected, caught and convicted based on nothing more than a writing sample or a single strand of hair is astounding, a number that will continue growing.
Boston Strangler
Even though scientific forensic analysis based on DNA matching is a relatively new method of catching criminals, it is still being used to confirm uncertain closed cases. The Boston Strangler, for example, was one just case. Back in 1964, Albert DeSalvo killed his last of 11 confirmed victims- a 19 year old from Cape Cod in the trendy Beacon Hill neighborhood of Boston.
Showing a pattern of raping and strangling his victims, the Boston Strangler was linked to 11 deaths from 1962 to 1964. It was his last victim, though, which confirmed he was the murderer with 99.9% certainty 39 years later. That's because Boston police were unable to make a definitive connection without DNA evidence. Taken from a living relative, DNA from DeSalvo was matched to DNA found at the crime scene in 2013.
The Night Stalker
The Night Stalker not unlike the Boston Strangler terrorized women, but unlike the 'Strangler,' the Night Stalker murdered in the early 80's. This was soon after the introduction of a central fingerprint-matching database. Having launched his reign of terror in the summer of 1984, the Night Stalker got away with his shameful behavior, tormenting Southern California, until August 1985.
The Night Stalker would break into victims' homes as they slept, attacking and murdering 13, while assaulting countless others. But on that fateful late summer night in 1985, a vigilant citizen noticed a suspicious vehicle in the area of the Night Stalker's latest attack. Found abandoned, the car was investigated, turning up a very useful fingerprint. Using the cutting-edge fingerprint-matching database system, it was quickly matched to 25-year-old Richard Ramirez. He was was recognized and captured by local citizens within one week.