Although forensic document examiners often work with pen and paper, we're sometimes recruited to analyze markings and impressions on other objects as well. Such is the case with two metal trunks that a client brought to me several years ago. The client's father received the trunks soon after the Korean War, with no explanation as to their purpose or history. Decades later, his son hoped my expertise in forensic analysis might help him get to the bottom of this mystery.
At first glance it was clear that these trunks were designed and built with a specific purpose in mind, but the exact nature of that purpose was unclear. There was even evidence that the trunks could be pressurized.
I began my investigation by studying any legible markings I could find on the outside surfaces of the trunks. The most significant markings were two stamp impressions that read "BZ-51" and "Inspected and Accepted."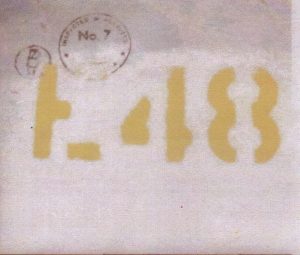 I also used my infamous "dog food can apparatus" to enhance and study additional ineligible markings on the trunks. This apparatus—which serves as a DIY alternative to video spectral comparator (VSC) devices—uses a modified dog food can and blue/green corning filter affixed to a Kodak Carousel slide projector to detect infrared luminescence, thereby making the faded lettering legible again.
After studying all the impressions on the trunks, I made a surprising discovery.
The "BZ-51" and "Inspected and Accepted" stamps are the same impressions that were placed on the Manhattan Project's detonators and weapons fusing assembly cartridges for "Little Boy," the atomic bomb dropped on Hiroshima at the end of World War II.
Additional research revealed that the trunks were built and loaded at Los Alamos before being sent to Hunters Point Naval Base where they were picked up by the Heavy Cruiser Indianapolis. They were then placed in a detonators locker and transported to the B-29 Air Force Base at Tinian Island.
Even after all my years in forensic analysis, I never could have imagined that these seemingly ordinary trunks could have such a fascinating history. To learn more any of the services we offer at Drexler Document Laboratory, feel free to give us a call or contact us online today!